Panaferd® has been used mainly in Europe and the United States, such as organic salmon, from the viewpoint of beautiful coloring and health benefit. Panaferd®-AX can be sold in Vietnam as a feed additive for aquaculture now. This license was obtained by a ONE-VALUE Viet Nam Company Limited providing management consulting to support Vietnamese businesses.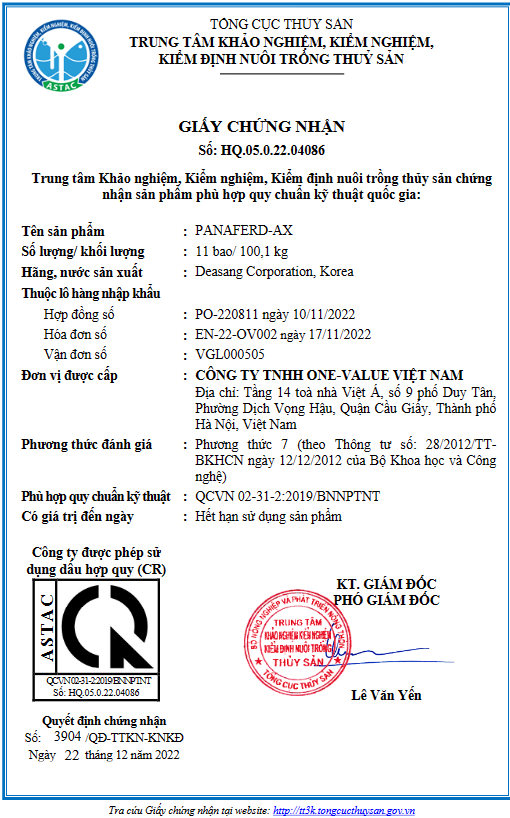 Why, Vietnam?
In Southeast Asia, prawns are being cultivated, accounting for about 70% of the world's total production. In particular, Vietnam uses a great deal of color material for its feed, as red shrimps are highly preferred in the export markets of Japan, Europe, and the United States. Synthetic astaxanthin is currently widely used as a pigmenting material, but some aquaculture farmers have voiced the need for specific food, such as for the production of safe organic shrimp without the use of antibiotics or chemicals.
Panaferd®-AX is astaxanthin derived from marine microorganisms without any genetic recombination techniques. Not only does it provide attractive colors with excellent palatability, but it is also a pigmenting material that can be used with peace of mind for humans, animals, and the environment. As such, it is a material that meets market needs.
Starting with this marketing approval, we will further develop the Vietnamese market and expand the Asian market. If you are interested in using Panaferd®-AX in Vietnam, please feel free to contact us.