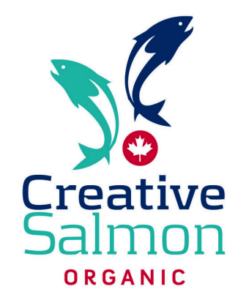 Farming to meet the market's desires has long been a challenge. The demand for healthy, organic products has greatly increased worldwide. As color is the symbol of salmon and trout, it deserves to be truly sourced from nature and not synthetically derived from the crude-oil chemistry.  At Panaferd®, we understand that preference and have developed a 100% natural feed additive to ensure a true natural fish color and the delivery of healthy nutrients free of GMO (genetically modified organism), or any preservatives.
Creative Salmon have had a long-time commitment to natural practices in their farming, which has made them Canada's first certified organic farm salmon producer. They are known for their world-class Pacific Chinook (King) Salmon raised on Canada's west coast, just off Vancouver Island. As Canada's first certified organic farm salmon producer, it's very important that their product be the healthiest and most flavorful for the end consumer.
When asked why they chose Panaferd® for their salmon, Tim Rundle, General Manager said: "Creative Salmon is Canada's first certified organic farm salmon producer. We couldn't do what we do without a naturally-sourced feed pigment; the Canadian Organic Aquaculture Standard demands it. With Panaferd in our fish feed, our customers receive a product boasting a rich color. And the fish? The fish receive a key ingredient in their diet as Panaferd also contributes natural antioxidants."
Panaferd® offers the seafood and retail industry the ability to market healthy products to selective consumers who expect premium quality and value when shopping. Panaferd® provides to salmon and trout a natural color through a unique wide profile of carotenoids such as astaxanthin and adonirubin, known also for their strong antioxidant properties. We are pleased to play a part in Creative Salmon's success in salmon farming. Panaferd® is very proud of our role in helping to nourish their fish in a way that sustains a vibrant pink color and delicious flavor, while maintaining the organic criteria important to consumers. If you are interested in learning more about Panaferd®, or would like to request samples for your own farm, please contact our sales team and let us introduce you to the natural choice in aquaculture.